Estilo
Behind The Ear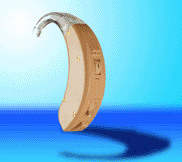 Rexton Reflection
Detalles del Producto:
Digital, Programmable 2-Channel Behind-the-Ear Instrument
For mild to moderately severe hearing losses

The Reflection Digital BTE offers a 2-channel, 2-band sound processing system for those who desire digital quality at an entry-level price. Reflection is a single memory instrument containing multiple programmable parameters (master gain, channel gain, compression threshold, feedback notch filter, and AGC-O limiting). The Reflection Digital BTE is recommended for mild to moderately severe hearing losses.

We're clearing our stock room of some new-old stock to make room for more current products! This product is not currently in production by Rexton, but is still in brand-new never used condition. Hurry! Only 1 in stock!

Features:
For mild to moderately severe hearing losses
100% digital signal processing technology
2-channels
Micrphone Noise Reduction - for reducing audible circuit noise in quiet situations
Feedback control filter
Programmable volume control wheel
M-T-O switch (microphone-telecoil-off)
Size #13 battery
Available colors: beige only
Todos nuevos del audifonos venir con...

Envío Domestico Gratis


Un año de reservas de baterías cuales serán enviadas con el audífono


1 Año de garantía en partes y artesanía


Programación y ajuste gratuito de por vida si u audífono lo requiere


Periodo de prueba e 45 días

OPCIONES DE COMPRA
The product is no longer available for purchase.
*Garantía de 2do ano de Perdida Y Daño incluye:
1er Año Perdida Y Daño
2do Año Partes Y Labor
2do Año Perdida Y Daño